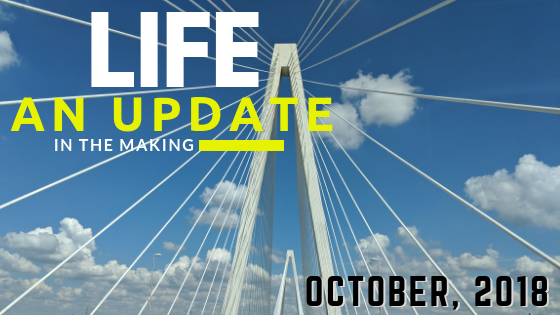 It's been a very strange and chaotic six months since my last post. If you've been waiting for an update, good news! It's finally here!
Things to Do:
Move back to Utah.

Get a new job.

Sell the house in Texas.

Complete job training.

Finish new book project.

Finish Final Hope.
Moving back to Utah
We moved to Texas nearly four years ago, in autumn of 2014. It was a difficult transition. One that tested our family in many ways.
There were trials and tribulations on our journey, victories and defeats, and many lessons learned along the way. As is the usual cost for such growth, we had our share of growing pains. But, like most people, we made a life for ourselves and did the best we could. Things weren't perfect, and yet, they seldom are.
For me, the move back to Utah wasn't a very complicated thing. I'd come to the realization that, regardless of the immediate discomfort, the move would be right in the long run.
For Tara, it was a little different. Life makes certain choices very difficult. And sometimes not making a certain choice can be just as hard. I don't want to try to tell Tara's story through all of this, but I think it's safe to say that while there was an immediate sense of "making it" - life wasn't where we needed it to be.
We weren't where we needed to be.
Getting a new job.
I won't go into all the nitty-gritty details, but I thought I had a pretty good avenue to make this happen. I had spent nearly four years of my life with the agency I was working for.
I'd spearheaded large projects and we had some major transitions on the horizon that would reshape the entire enterprise. There was a lot of work ahead of us and I was a very capable member of our dwindling team.
I was working from home and had been for some time. I knew I could continue my work just as easily in another state without any impact to the organization, especially as we were about to transition our data centers outside of physically attached spaces.
I figured I could speak with my management and find a workable solution. If they approved, I'd list my house and pay for my own move once we found a buyer.
I though I had it all worked out.
I figured wrong.
Even though our team had lost 3 of our Federal staff, piling the work on those of us who remained with no word of hiring replacements, management was not interested. My supervisor did her best, but in the end it just wasn't enough.
One day, feeling frustrated with the way management was handling the request, my supervisor told me that I should start looking for other positions in Utah. I had to take care of my family and do what was best for them. She wished she could make it happen, but she knew that certain things were just outside of her control.
It was a hard conversation. My supervisor was the best I'd ever worked for. Despite all the extra work, I was willing to keep shouldering the load because I didn't want to imagine her taking all that weight on her own.
But I took her advice to heart and applied for a lateral position in Utah that evening after work. A few weeks later I had an interview. A few weeks after that I received the tentative job offer.
Still, there was nothing from management. Radio silence. They could have approved my request or transferred me to the Utah Field Office. But they were content to do nothing and allow the problem to take care of itself.
In a way, it did. I'm no longer with that agency and I even got a paid move back to Utah with the new position I accepted.
Sell the house in Texas.
Things haven't exactly been all rose petals and butterflies. The paid move was nice but for last (almost) three months, the majority of our possessions have been in long-term storage.
We're currently living in a temporary housing situation while we wait for the house in Texas to sell. So far, we haven't had much luck. We've had less than 15 showings since it went on the market in mid-July. Folks just don't seem to be interested.
It's been kind of hard on me. I think about silly things like how I'd still be there, working from home and building toward a future I was really excited about in my life on my old team. If the house took some time to sell, it wouldn't have mattered or cost quite as much.
Yet here I am, renting one place while paying for an empty house at the same time with no real end in sight.
Now, I've sold a few houses over the years, so I know the reality: it actually only takes one buyer to be interested in your home to make a sale. (Having more than one can be fun and exciting, but unless the market is right, that can be rare.)
In this case, I think selling our Texas home is less about selling the house and more about letting go of all the could-have-beens.
We chose our path and we had the good fortune to have it open up before us. Things like this don't happen too often, so I need to remind myself to be patient.
All good things come in time.
Complete job training.
Part of accepting this new job was agreeing to a fairly intensive training plan. What does that mean? Well, basically, I will be spending a total of around 12 weeks (split across three trips) away from my family as I learn the ins and outs of things.
As it turns out, this new job is kind of a big deal. We do some pretty important stuff that I can't really talk about and the only way to really learn how it's done is to be a part of the doing.
So, I've spent the last few weeks away from my wife and kids, shoving loads of new information into my brain, and trying my best to get some writing done on the side.
Finish New Book Project
What?! A new book project? What happened to the last one?
I'll get to that in a minute.
First, yes. There is a new book project I've been working on this year and I think it's gone pretty well. I'm nearly 60,000 words in and I'm feeling pretty good about how things have come together so far.
I might have mentioned it here on the blog but if I did, it wasn't with much detail.
I've actually been very careful not to talk too much about this project to date, outside of a small few alpha readers.
Why? I guess the easiest answer is because I need to learn more about my own process.
This new project is a bit different from the things I've tried to write in the past and being free from a bit of the fear of failure or not living up to expectations (that don't really exist this early in my writing career), has been liberating.
At around 60,000 words, I estimate I probably need another 20,000 or so to finish off the story. With any luck, this will be an ongoing series with several more books to come.
But first...
Finish Final Hope.
Final Hope is not dead. There. I said it. And it really needed to be said.
If not for you, then for me. For sure.
The last time I opened my project file for Final Hope and actually wrote was some time back in February. You see, it was around this time that the whole moving back to Utah thing started to come to a head.
One of the guys on our team, a real subject matter expert, had been gone for over 6 months. Two other guys left around the beginning of the year and there still wasn't any movement toward hiring a new guy to fill the massive hole we'd been working around.
Work was a lot of work. It felt good to get things done and accomplished, but I was racking up use-or-lose leave at an alarming rate and I just couldn't see a way to get all the work done and still take a vacation. When I looked it up, I had a projected balance of 127 hours of use or lose leave by the end of the year.
Instead of bonuses, management gave us time off awards. It was a horrible joke considering the workload they were forcing us to carry. But the real point was that I just couldn't catch a break.
Writing Final Hope was a lot like work. I love this story, probably a lot more than I should. So, for a long time, the work was one of passion. And then my well ran dry.
If you've followed the progression of Chlorophyllium 9 at all, you know that this story has consumed years of my life. And when I think about it, I realize that not everyone will like or "get" the story as I meant to write it.
That knowledge was a very heavy burden for me. The work became too much and I needed something fun to write instead. I needed an escape.
But first...
I needed to give myself permission to step away.
And I did. But I had to promise myself that I would finish the story of Final Hope. Because finishing things is important, too.
So, once I finish book 1 of my new project, I will put it aside and I will finish Final Hope. I will finish it and I will publish it and it will make its clumsy way in the world like it was destined to do.
People might not love it. They might not fully understand it. But at least they will have the opportunity to read it. I owe it to the story. I owe it to few people who have waited years for it to be done so they could read it. And I owe it to myself.
With any luck, you can expect it to be done by the end of the year.