Completing a Second Master's at WGU.
I started my MBA at Western Governors University (WGU) back in December (2018), five years after graduating with my Master's of Science in Information Security and Assurance. 
This wasn't the first time I attempted to complete an MBA. My first go was with my alma mater, Bellevue University, back in 2007. At the time, I was working from home as a Senior Consultant and Technical Project Manager for Pearson school systems. 
Shortly after getting into the meat of the program, I had to make the tough decision to drop out. Scheduling with my work became erratic and I found myself working late shifts 15 days in a row. No weekends, no time to study. 
In 2010 I was in a better work situation, one with more stability and less volatility. It was then that I decided to give it another shot, to climb that mountain.and get my Master's. But this time I opted to go the technical route. The Information Security and Assurance degree sounded interesting. With my sights set, I aimed for the mark and took a leap.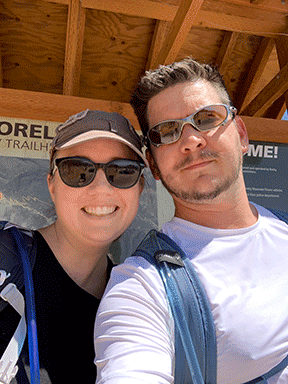 The road was rough. Rougher than I expected. A few things came up and I had a lot of learning to do along the way. After taking a break and then almost giving up, I finally finished my program in October, 2013. 
It felt good.
But I wasn't eager to go through the experience again. Working full time (sometimes with on-call duties) and doing a full time degree program wasn't easy. The competency-based system was much easier, but it took me some time to figure it out and get out of my own way. 
I remember those first few terms. The assignment would say something like: "Write an Essay." But then I'd turn in my paper and the grader would come back saying I neglected to include a certain section of information. It was there, but the essay format made it hard for a grader to isolate and identify each section. Over time, I got smart and developed a template that helped identify each Rubric item. 
The road got easier from there. Still, when I finished the degree, I felt like I'd done it. And I was good with the idea of being done.
Fast forward to December, 2018.
I had taken a new job with a different government organization back in Utah. The change wasn't the best on a professional level, but it did fit into our decision to move back home. It also came with moving expenses, but the house in Texas wasn't selling. Months passed. Still no bites. In the meantime, I was paying a mortgage for an empty house and also renting a condo.
Then things in the house started breaking. A water heater, the A/C system, the foundation needed work and leveling, the propane tank, and even a toilet mysteriously cracked and had to be replaced... 
It was tough. 
Money was being sucked down the drain at an alarming rate.
I was on my third training rotation to the Saint Louis area and I was looking at my bank statements. I knew I had to do something.
I still had 10 months of education benefits from my time in the military. Part of the program provides some help with living expenses while you're enrolled and progressing in an approved education program.  
I did the math. With the volatility of my new position, it wasn't feasible to get a normal part time gig. With 5 kids, with one being fairly young, I knew it would be difficult to manage if my wife went out and got a part time job. I couldn't rely on being able to stay on the same shift, and I occasionally have to cover for people when they take leave. Yes, people do work through things like this every single day, but every situation is unique and with some of the things I deal with after my time in the military… having her home when my work situation is chaotic helps significantly. She is the order to my chaos.
But making that decision means that I need to make a sacrifice in another area.
Well, crap.
While I wasn't keen on going back to school, I could see the benefit of going back and completing the MBA program with WGU. I have the technical side of my career covered, and this would help me expand on my leadership roles. Besides, I'd already learned some very good techniques and ways to make sure I wasn't getting in my own way with the classes. And I was fairly confident I could streamline the process and complete my courses at an accelerated rate. 
Still, it had been 5 years since I finished my last class. And it had taken me 3 years the first go around. Going back to school would slow down my writing significantly, but it would solve the immediate problem and help bridge the financial gap in our budget until we could sell the house in Texas.
Going longer than two terms would end up costing me tuition out of pocket… Could I finish the entire program in a year or less? 
There was only one way to find out. 
I held my breath and took the leap.
As of this weekend, I've completed all my program courses with the exception of the MBA Capstone. The template I created during my last go around needed a little tweaking, but it was a huge asset for the performance-based assessments. As for the tests, some focused studying and a reliance on my test-taking abilities carried me through. 
And I've still managed to keep writing. Per my last check, Second Chance is sitting somewhere in the neighborhood of 120,000 words. I probably have another 3 or 4 chapters left to write, and I've started outlining the next book in the series.
I've done well. But I'm so ready to be done.
I have 5 tasks left to complete my Capstone. 
Some of it is group-based. Some is time-locked. With any luck, I'll be done with the whole thing in either September or October. 
Then it's full steam ahead with my writing. That means more blog posts. Picking up the pace. Increasing my word count. Publishing more books. 
I'm nervous. I'm excited. But most importantly, I'm ready.