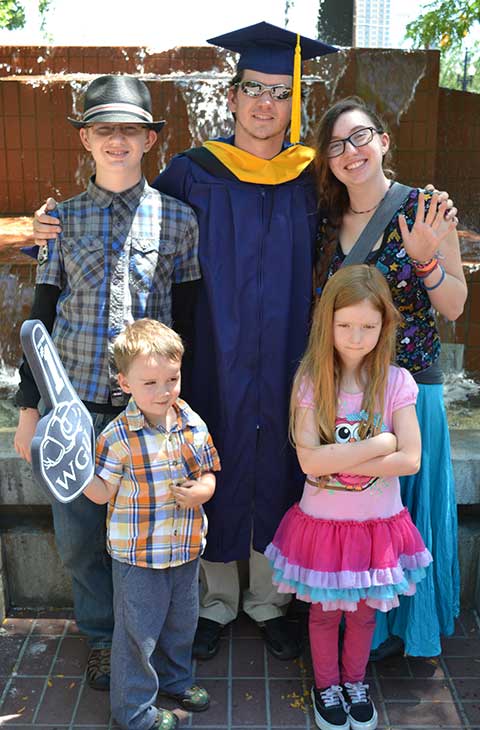 Okay, so this isn't a writing update, but I had this post with a link to my Taskstream Template I created when I attended WGU up on my old blog and it helped some folks out, so I'm re-posting it. Nothing wrong with keeping that goodwill going.
Western Governors University is a great school. Don't let anyone tell you any different. The competency-based learning model provides you with the opportunity to demonstrate your mastery of the subject matter without confining you to a time-based schedule. This all-you-can eat program allows you to complete courses ahead of schedule and go back for more, all without incurring a course-based fee.
For the motivated professional who is looking to complete a degree while working on their career, WGU is amazing.
I'll be honest with you, my journey with Western Governors wasn't without its frustrations. One of my early stumbling blocks was the Taskstream assignments. Since I was going for a Masters of Science in Information Security and Assurance (MS-ISA), I had already been exposed to essay writing earlier in my academic adventures. Both my associate's degrees and my bachelor's prepared me in a much different way than the graders at Taskstream seemed to have in mind when they asked for an essay. This lead to much cursing and gnashing of teeth, on my part…
I eventually figured out a method to satisfy the rubric requirements for my Taskstream assignments. This really helped simplify the process. (Taskstream has now been replaced with a built-in task submission application, but the concept is the same.)
The template I created for answering these requirements streamlined the work for me and helped me make sure I was hitting each of the prescribed rubric items.
Having the rubric items laid out in a clear and logical manner provided the graders with the information they were looking for without them having to find it in the middle of a paragraph. In the end, all of this helped me drop the melodrama of facing written assignments that didn't fit my personal expectations.
I stopped arguing whether the assignment was or was not a traditional essay and just focused on the work. Once I figured out a standard format to use to meet the rubric grading mechanisms, these assignments lost their punch-to-the-face impact. I was able to focus on the content of my studies and proceed with my degree without several of the roadblocks I'd created for myself. If nothing else, WGU taught me to take a good look at how I was approaching problems. It's a learning process, but taking time to stop beating your head against the wall will help you tackle problems for what they are and not what you're making them out to be.
I passed this template on to three other students while I was still working on my degree and they all found it to be useful. So, I decided to share it here and ever since, many other students have downloaded the template and used it for their written assignments.
You see, I've always been open about sharing this template and since it doesn't violate any of the principles of the university or the grading mechanisms, it's completely fair game. You still have to demonstrate your own competency. And no, I WILL NOT provide you with a finished assignment as an example. This is a blank template, with nothing more than formatting, headings, and instructions (which you will replace with the content of your assignment).
This template just helps you get over the formatting issue. It showcases your answers to the rubric items in a way that benefits both you and the TaskStream grader. Look, they might ask for an essay, but this format will help the graders identify your answers and it's designed to help you use the rubric to your advantage!
The Taskstream Template.
You can download my free WGU Taskstream Essay Template here. This link points to Google Docs, where you can download the document for free.
There is truly no cost, no newsletter to sign up for, just one alumni trying to help out a future one! Because that's just the kind of person I am. But if you are interested in signing up for my newsletter, you should know that it's all about my fiction writing and not filled with useful WGU tips and tricks like this one. Though, if there's something you're aching to know about the WGU experience, you can always ask and if I have the answer, I'll be more than happy to share it with you.
Google Analytics tells me that this post is a fairly popular with other WGU students, too. So if I don't know, maybe someone else might and they can chime in! That's one thing you'll find about WGU, your fellow students can be amazing resources. I can honestly tell you that I received a lot more help than I expected from other working adults who were also pursuing their degrees full-time on more than one occasion. And if there is one other bit of advice I could give you, I would recommend that you try to attend some of the mixers WGU puts on. That's one thing I didn't do until very late in the game and I wish I'd gone sooner!
If you found this post to be helpful, please consider sharing it with other students you know or even with your WGU mentor. This really is something I wish I had access to when I first started my program and I'm very confident that it can help many WGU students who may be struggling with the Taskstream grading system.